The death penalty situation in the Islamic Republic of Iran remains alarming with a significant increase in executions in 2021 (+25%) and an increasing number of Iranian women being executed. The number of executions has doubled after the election of Ebrahim Raeisi as President, and as the Islamic Republic and Western governments negotiate to revive the nuclear deal, also called the Joint Comprehensive Plan of Action (JCPOA). These are some of the main findings of the 14th Annual Report on the Death Penalty in Iran by Iran Human Rights (IHRNGO) and Ensemble Contre la Peine de Mort (ECPM) released today.  Another disturbing finding is that the number of drug-related executions has increased fivefold compared to 2020, with 126 executions.
Commenting on the report, IHRNGO Director, Mahmood Amiry-Moghaddam said: "The Islamic Republic's dreadful human rights and death penalty records are not included in the JCPOA talks, and it seems that the Iranian authorities are under less scrutiny while the negotiations are ongoing." He added: "There will be no sustainable Joint Comprehensive Plan of Action unless the situation of human rights in general and the death penalty in particular, are central parts of the negotiations". ECPM Director, Raphael Chenuil-Hazan said: "In a recent Resolution, the European Parliament urged the EU to raise human rights violations in its bilateral relations with Iran. Any negotiations between the West and Iran must include the death penalty on top of its agenda."
According to the report, ethnic minorities, the Baluch in particular, are grossly overrepresented in the execution figures, and Iranian authorities continue to execute juvenile offenders. The report also shows the extent to which the Iranian population is challenging the authorities' practices. Public support for the death penalty has declined sharply, while the trend towards accepting diya (blood money) and granting forgiveness in murder cases has increased considerably compared to previous years.
The 120-page report assesses and analyses trends in death penalty practices in order to propose recommendations, tailored to the national context, and to engage in a constructive dialogue on capital punishment in the country.
On the launch of the 2021 Annual Report on the Death Penalty in Iran, IHRNGO and ECPM call for an immediate moratorium on the death penalty in Iran. The organisations also call on the international community, in particular the UNODC and the European governments with diplomatic ties with the Islamic Republic, to play a more active role in promoting accountability and the abolition of the death penalty in Iran. Today, 146 States in the world have abolished the death penalty or observe a moratorium on the executions. Of the 57 member states of the Organisation of the Islamic Cooperation, 20 have abolished the death penalty in law and 14 observe moratorium on executions.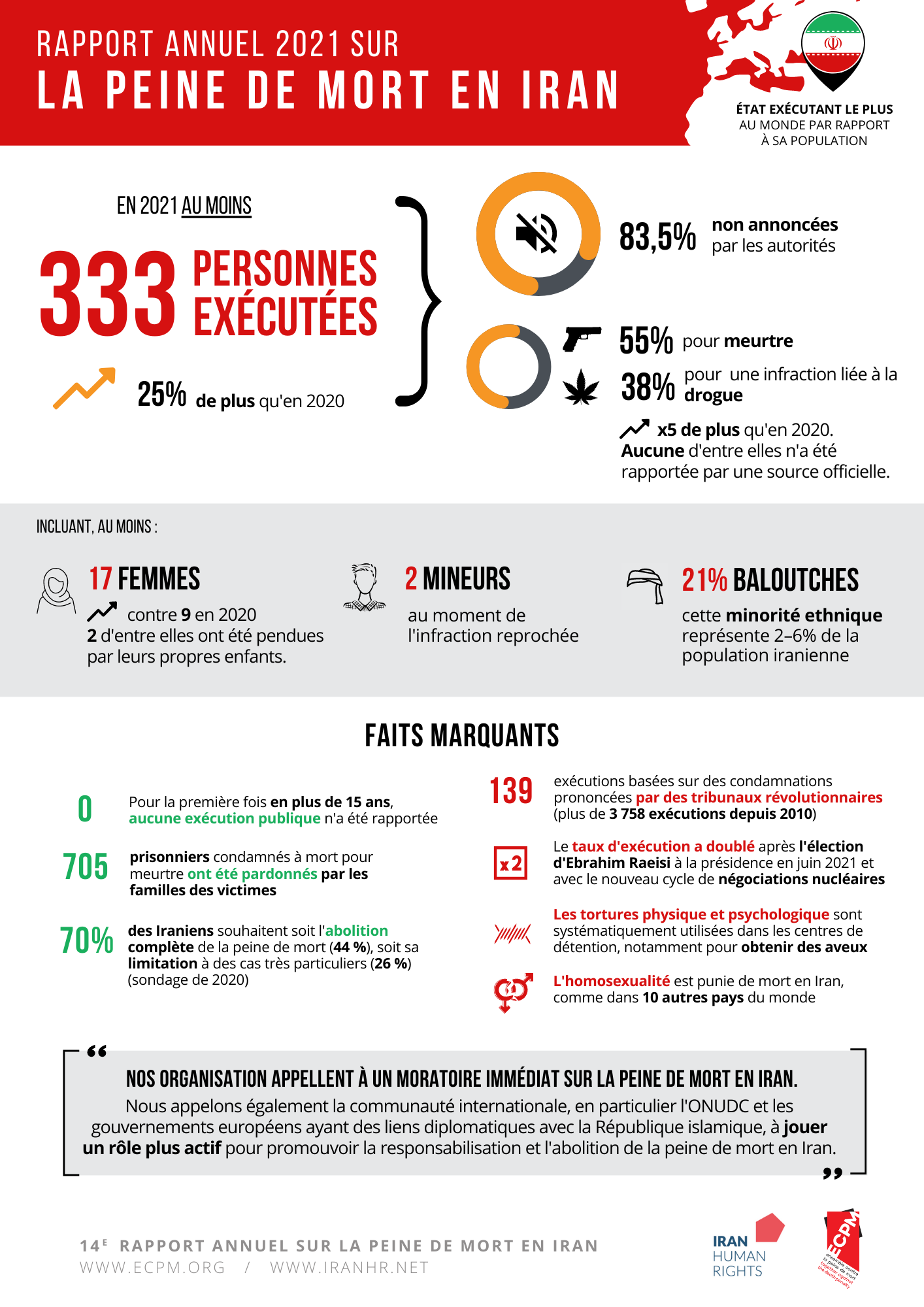 Infographic : Annual report on the death penalty, 2021