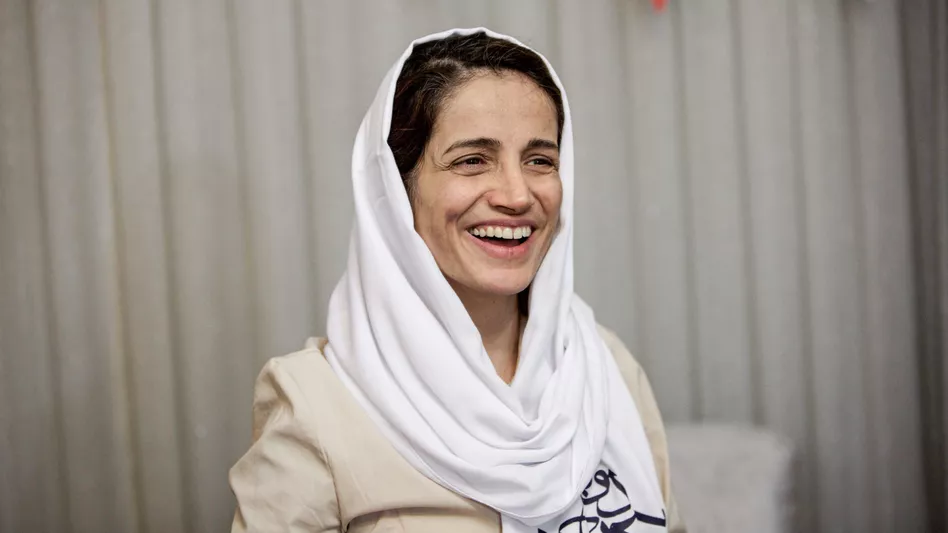 Held in Iran, still under the threat of the regime, it is the director of Iran Human Rights, Mahmood Amiry-Moghaddam who received his award, from the hands of the former French Minister of Justice,
Christiane Taubira, during a ceremony held at the City Hall of the German capital.
In a letter received last night Nasrin Sotoudeh said: "I ask all the world and this congress to be eyes
and ears of Iranians during these difficult days. Days that see young people who've used their legal
right to participate in the "Woman, Life, Liberty" protests, unfairly sentenced to death. Changing the
government's behaviour towards protesters and restricting the judiciary from executing protesters,
will help to abolish the death penalty in the future Iran."
"This public award is the recognition of the abolitionist community and more broadly of the entire
international community for the work and exceptional courage of this woman committed to the
defense of human rights and the abolition of the death penalty in Iran," said Raphael Chenuil-Hazan,
Executive Director of Ensemble contre la peine de mort (ECPM), organizer of the Congress. "More than
ever we must stand in solidarity with the Iranian people and this is what this Robert-Badinter Prize
underlines", he concluded.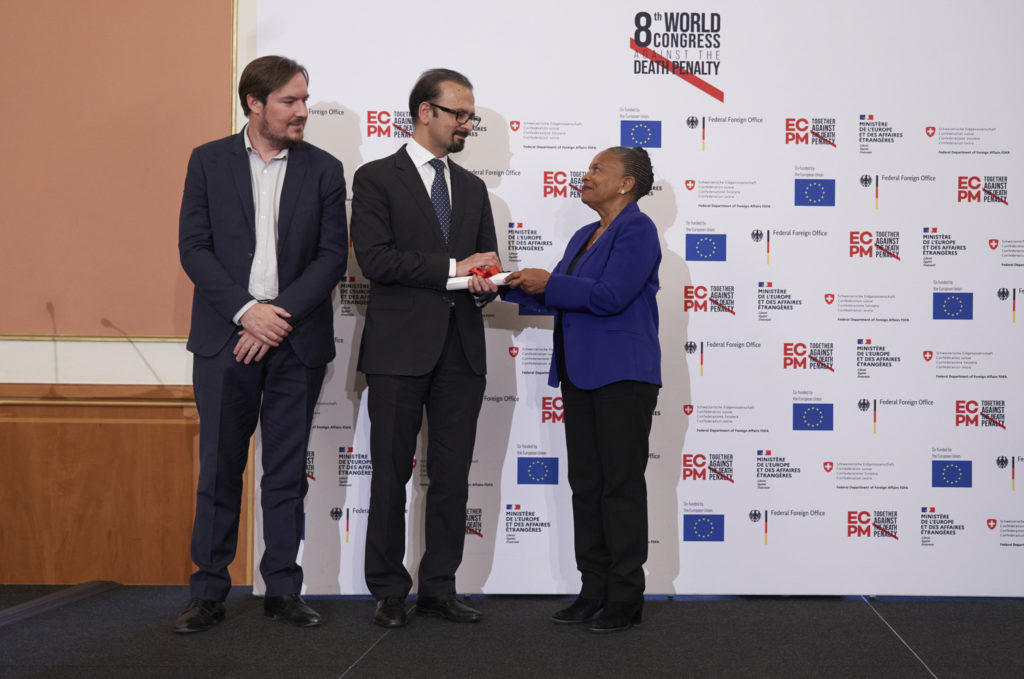 Exceptional mobilization
It is on this note that the 8th World Congress against the Death Penalty ends with a record
participation, more than 1500 delegates, from 128 countries, and an unprecedented political
mobilization. Three African countries, Liberia, Zambia and Malawi took the opportunity to announce
their intentions to abolish the death penalty in their respective countries within the next year.
These are major steps forward," said Aminata Niakaté, President of ECPM, "and confirm that Africa
may soon become the next abolitionist continent. It also proves, she adds, the need for meetings like
these to achieve our goal: the universal abolition of the death penalty.
Nasrin Sotoudeh
In order to obtain her lawyer Licence, Nasrin Sotoudeh had to surmount the numerous barriers
erected by the Iranian authorities over a period of 8 years. She was eventually successful in 2003, and
has since pleaded in many capital cases, managing to prevent a number of executions, including of
juvenile offenders. She has also been involved in LEGAM ("Campaign for step-by-step abolition of the
death penalty"), alongside several prominent Iranian human rights defenders. In March 2019, Nasrin
was sentenced to 38 years' imprisonment and 148 lashes based on 7 charges, including "participating
and giving a speech at an illegal gathering", linked to her activity with LEGAM. Her conviction was a
further example of the systematic repression aimed at LEGAM and its members, including Atena
Daemi, and Narges Mohammadi, who is still in detention. In 2020, Nasrin went on hunger strike to
demand the release of all political prisoners in Iran, with dramatic consequences for her health. She
has been on medical furlough from Quarchak prison since July 2021. Through her unwillingness to
compromise, even when facing direct threats to her freedom, rights, and health, Nasrin has become
an international symbol of the struggle against the death penalty.